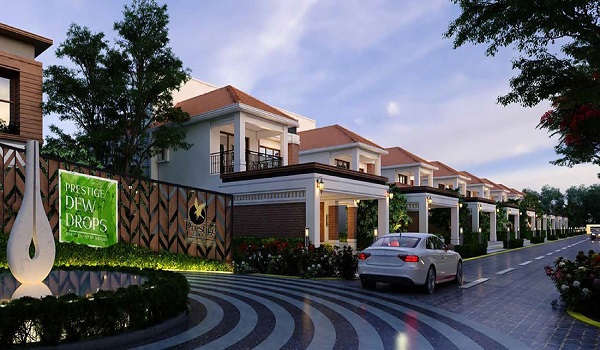 People live in the houses in Prestige Dew Drops, a project by Prestige Group. It is a great and modern place to live. This project is in a nice neighborhood, Yelahanka, Bangalore, and gives people a calm place to live. If you wish to refuge in the rush of city life, here is the finest spot to call home. It takes up an area of 5.42 acres. Prestige Group is building high-end 3 BHK and 4 BHK villas as part of this project. The houses are between 2188 and 3565 square feet. The project is under construction, and by April 2026, the new owners should be able to move in.
The well-known real estate company that built Prestige Dew Drops, Prestige Group, is known for its high-quality projects. Because of the high-quality building materials, strict building standards, and careful attention to detail, residents have a place to live that will last and be comfy. The fact that projects are finished and given to customers on time is another sign that the developer cares about ensuring customers are happy. Prestige Group built the project with care, and their forms are clean and modern. The well-planned layout makes the most of the space and makes it easy to migrate from one room to another, giving a feeling of openness and freedom.
Location and Connectivity
Prestige Dew Drops is in Yelahanka, Bangalore, a great place that gives its people peace and makes it convenient for them to get to other spots. The project is nearby several roads, and thus it is easy to get to the city's most important places, business districts, schools, hospitals, and areas to have fun. Residents don't have to spend much time or energy getting to work because the roads are well-built, and there are many choices for public transportation.
Perks of Living in Prestige Dew Drops
Living in Dew Drops villas has excellent features that make it the best residence. 6 top reasons to live in this project house are as follows:
Spacious and Luxurious Living: The villas in this project are big and fancy. Residents can make these well-equipped houses their dream homes by making changes and adding their touches. Residents can live comfortably in apartments with floor plans and well-designed furniture.
Serene and Tranquil Environment: It is away from the noise and chaos of the city. Thanks to the lush green fields, beautiful views, and pleasant settings, people can relax and recharge in the beauty of nature.
Privacy and Exclusivity: The houses in this project make you feel unattended. In each villa, people and their families have their own living space. Since there is a guard at the gate and only a few people can get in, the location is even safer and more private.
Maintenance and Services: Experts take care of maintenance and services when you live in this project's apartment. The team keeps the villas and shared areas of the complex in good shape. It ensures that people don't have to worry about anything and can focus on what's important to them.
Community Living and Social Interaction: Residents of the project get to know one another and contribute to the strong community atmosphere. People can meet, talk to, and get to know their friends at the villa's neighborhood events, parties, and recreational activities. Because of this sense of community, the houses are a better place to live.
Prestige Group's Reputation: The well-known real estate company Prestige Group has been making high-quality projects for a long time, including Dew Drops. These project homes are prime places to live because they try to be the best, pay attention to the little things, and put the happiness of their customers first.
Conclusion
Prestige Dew Drops is the best residential place because it has a good mix of peace, modern living, and a sense of community. This apartment building is a peaceful place to live because of its prime location, beautiful design, high-quality services, and commitment to being green. If you're looking for a peaceful and joyful location to call home, you've found it. Enjoy the beautiful scenery, have fun, and meet other citizens.
Prestige Group prelaunch apartment is Prestige Southern Star.