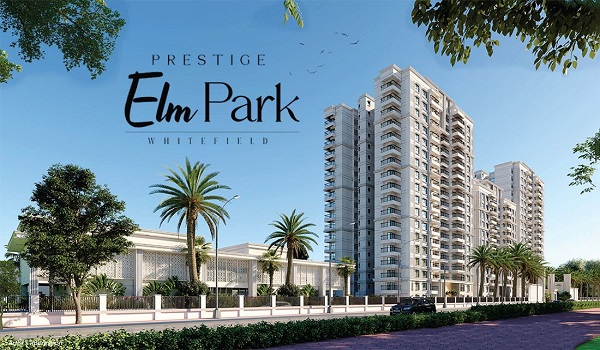 Prestige Elm Park is a new home project that the Prestige Group will build in the Channasandra neighborhood of East Bangalore. The project is under construction. It is on four acres and has luxurious three-BHK and four-BHK flats. Apartments are between 1800 and 2000 square feet in size. In this neighborhood as a whole, there are 192 units. This project started in the first month of 2023. In the first month of 2027, the owner should get the keys. The project is in a great location, so it's easy to access famous places, schools, hospitals, and other spots.
Living in the heart of the city reduces travel time to work, school, and entertainment destinations. Prestige Elm Park stands apart because of its dedication to preserving the natural world. Trees and vegetation abound throughout the neighborhood. Tree-lined streets and landscaped parks provide a welcome respite from daily life. Prestige Group has taken measures to reduce the apartments' environmental impact, such as recycling water and using solar panels for electricity.
People who live in this project care a lot about their neighborhood. People are also getting to know each other and building a community in shared places. Residents can participate in different events and activities in their area, like festivals, sports games, and cultural parties. It helps people get to know their friends better and gives them a stronger sense of belonging to a group.
About the Builder
The well-known real estate company Prestige Group builds Prestige Apartments. The name "Prestige Group" means that you can count on them. It's been around for approx 30 years and has always done good work. Choosing Prestige Apartments means choosing a reputable developer, a high-quality building, thoughtful design, features, a strategic location, safety, and a strong return on investment. All these things make Prestige Apartments the best option for people who want a high-quality place to live.
Connectivity
Prestige Elm Park is close to the main roads and highways, so visiting other parts of the city is convenient. Because of its proximity to major thoroughfares, residents may easily commute to and from work, school, and other nearby destinations. Kempegowda International Airport is the airport nearest to this project. The station is called Channasandra Railway Station. Bus stops and subway stations are close to the building, so you can use public transportation to get around. People can move around the city and get to other places more easily. Rather than driving, the environment should take a bus or train.
Healthcare facilities
The area has hospitals, clinics, and medical centers near Elm Park, where you can get medical help. It ensures that people in the area can quickly get high-quality medical care in an emergency. People have access to various healthcare options, boosting their sense of well-being. Channasandra is home to some of the greatest medical centers in India.
GR Hospital
Whitefield Hospital
Apollo Hospital
Aaxis Hospital
Educational Institutions
There are many schools near Prestige Elm Park, so families and their children can get good educations. The apartment building is close to several well-known schools, colleges, and universities that are easy to get to. There are known schools for families with school-aged children near this project. The area has good places and great ways to learn at these schools.
Also, there are schools and colleges nearby where people can get bachelor's and master's degrees. These schools are known for having teachers who know a lot, classes that cover a wide range of topics, and extracurricular activities that help students grow in all areas. Channasandra is the place to be if you want your child to attend school in a secure and supportive community. These places of learning are conveniently close to each other.
Conclusion
Prestige Elm Park is a perfect example of how luxury, ease of use, and natural beauty can all go well together. This apartment building is the best place to live because of its prime location, beautiful design, high- services, and focus on being green.
Prestige Group prelaunch apartment is Prestige Southern Star.