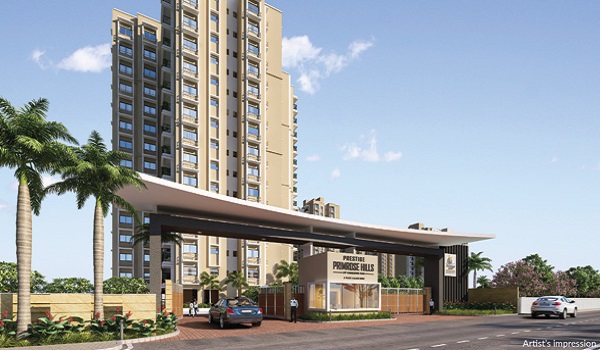 Prestige Primrose Hills Phase 2 is a plan for new homes that are easy to get to and have modern features. The project is in South Bangalore, in Talaghattapura. Bangalore is a great place to buy your dream home because of its great location, well-built flats, world-class services, and well-known builder. It is 5.43 acres in size and has high-end 3 BHK flats. Five hundred sixty apartments are spread out over 5 buildings. The apartments in the project range in size from 1,400 to 1,688 square feet. It is currently being built, and people should be able to move in by June 2025.
There are countless good things about the plan, and it could make people's lives better. Prestige Primrose Hills Phase 2 has a swimming pool, a fully-equipped exercise room, beautiful landscaping, and fun play areas for kids. When people in the area attend neighborhood events and programs at the center, they feel like they belong and are accepted. This brand-new area has a lot of green spaces and things that are good for the earth. Open spaces, well-kept parks, and streets with lots of trees make for a calm environment. The parts of the project that are good for the environment, such as collecting rainwater and reusing trash. It makes things better for people.
When these apartments were built, they were made with modern families in mind. This building has big flats with three bedrooms and three bathrooms. The flats have a lot of space and are well-lit. Apartments try to make their interiors both functional and comfortable. The Prestige Group has been in the real estate business for a long time and also has a great name in the field. They had everything they needed to live alone. Because the builder has been around for a long time, it has a good reputation for making high-quality homes, adding to its success. Their dedication to giving their clients great service has helped them build a great name among people who want to buy real estate.
Location
One of the best things about Prestige Primrose Hills Phase 2 is where it is. Electronic City, Bannerghatta Road, and Mysore Road are accessible for everyone to get to. The street is called Kanakapura Road. Schools, hospitals, shops, and places to have fun are also in this area. When you buy a home, you aren't just buying a place to sleep. The site and the builder's name are excellent signs that the project will make money. Bangalore's real estate market is doing well, making more people want to move there and visit.
Connectivity
You can quickly get to Prestige Primrose Hills Phase 2 in Talaghattapura, South Bangalore, from anywhere in the city. Here's what we know about how it all fits together:
Road Connectivity: From Talaghattapura, getting to other parts of Bangalore through Kanakapura Road is easy. This road leads to places like the Central Business District (CBD), Banashankari, Jayanagar, JP Nagar, and others. Kanakapura Road is wide and well-kept, so cars can drive quickly. Since the NICE Ring Road is so close to Talaghattapura, getting to other parts of Bangalore is effortless.
Public Transportation: Buses run by the Bangalore Metropolitan Transport Corporation (BMTC) go to Talaghattapura and are a safe way to get around. Several bus lines connect this area to Majestic, Shivajinagar, and Kempegowda Bus Station.
Metro Connectivity: The Yellow Line (Line 3) of the Namma Metro will be built near Talaghattapura. This route makes getting to other parts of Bangalore easy from the Anjanapura Cross Road stop. Once the Metro opens, it won't be hard to get around Talaghattapura.
Airport Connectivity: The closest airport is Kempegowda International Airport, about 54 kilometers from Talaghattapura.
Railway connectivity: The Kengeri Railway stop, about 9 kilometers from Talaghattapura, is the nearest train station.
Conclusion
The Prestige Primrose Hills Phase 2 property is a great place to spend because it is conveniently located and has consistently increased in value over time. Settle here if you want to live without stress in a well-known area known for its peace.
Prestige Group prelaunch apartment is Prestige Southern Star.