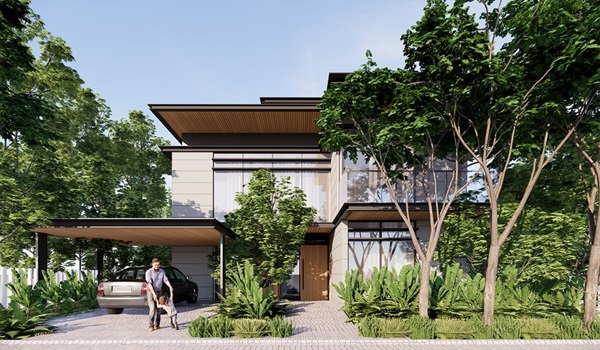 A building called Prestige Sanctuary is in an area of Bangalore called Nandi Hills. Prestige Group offers luxury villas there. The villas are stunning, well-built, and comfortable. This project will need about 23 acres of land. It has 85 houses with sizes ranging from 4,085 to 6,680 square feet. This project started in November 2022. Construction is ongoing, and by November 2025, the new owners can move in.
One of the best things about Prestige Sanctuary is that it is in a beautiful place. People can enjoy the beauty of nature because the villas have a lot of greenery in the surroundings. The peaceful atmosphere, well-kept grounds, and soothing water features will make you feel at ease when you step on the property. A large amount of greenery calms the senses and gives you a break from the noise and pollution of the outside world.
The villas in this project fit in well with the natural surroundings. Prestige Group uses materials that are good for the environment and has features that save energy. Large windows and open floor plans let in much natural light and show off the beautiful views outside. Each home is carefully made to have a good mix of indoor and outdoor spaces that make the people who live there feel they are close to nature.
Connectivity and Convenience
Even though Prestige Sanctuary is in a quiet, peaceful area, it is close to chief services and major transportation lines. People can visit schools, hospitals, shopping centers, and fun places. It makes sure that they have everything they need every day. The project is in a good spot, so it's convenient for citizens to visit other parts of the city. People who like peace but don't want to give up modern conveniences should consider moving there.
The project goes above and beyond to ensure its residents have a wide range of high-end services that help them relax and feel good. The house has a peaceful swimming pool surrounded by trees and plants. People can use the pool to cool off or hang out by it and enjoy the peace. Having places set aside for yoga and meditation makes it easier for people to calm their minds and become more aware.
Benefits of living in Prestige Sanctuary
Location: The position of Nandi Hills is a big selling point for this project. Nandi Hills is a beautiful, peaceful place known for its views, weather, and beauty. People living in this beautiful and pleasant place can avoid the city's busy life and enjoy a quiet life. The hills and trees around it make it feel calm and help people relax and feel better.
Return on Investment (ROI): If you buy a house in this neighborhood, you might get a good return on your money. People from nearby towns like to go to Nandi Hills on the weekends. People like to visit there from all over the world. Home prices are appreciating, and more people are looking for homes there, so buyers should put their money there. As the area improves and more people visit, the property's value rises, giving a good return on investment.
Easy Accessibility: The project has excellent connections, making accessing big towns and other important places easy. It is close to Bangalore International Airport, which makes it easy for people who fly a lot to get there. The roads and transportation systems to and from Nandi Hills are well-built, so getting there and back is easy. People can get to nearby schools, hospitals, and leisure centers.
Conclusion
Prestige Sanctuary best illustrates how peace and wealth can live together in harmony. People can find peace and relaxation in nature at this place because of its beautiful setting, thoughtful design, services, community areas, and easy-to-reach location. When you live in this project, you can avoid the chaos of the outside world and live a calm, healthy life that cares for your mind, body, and spirit.
Prestige Group prelaunch apartment is Prestige Southern Star.